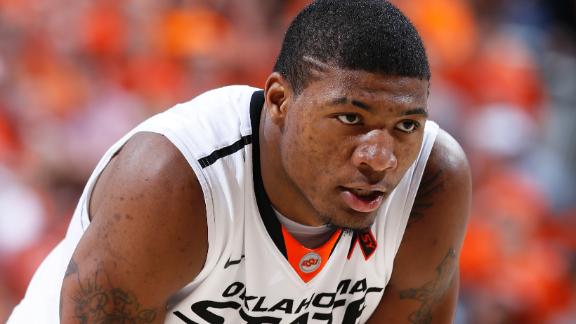 Yannis Koutroupis, writer for HoopsWorld, made a fun exercise in making a mock draft based on the preseason results instead of going into power rankings or other win/loss predictions. This is different and interesting, but probably very lowly accurate at the end – Philly, for example, ended up with the 7th pick and San Antonio with the 11th.
So the Top 5 in the draft order went as follows: 1. Utah. 2. Atlanta. 3. Milwaukee. 4. Boston. 5. Orlando.
My first thoughts after seeing this were, ' Hold on, the Celtics weren't the worst team in the preseason? How could that happen?' So no, they were not the worst team out there. 
Going into more detail of the mock draft, the first pick was Wiggins, followed by Julius Randle. Those are the two clear choices for the Top 2 as everything stands right now.
Jabari Parker was available when the Celtics took Smart (Parker went 6th to Denver). By the way, in June 2014, I think there is absolutely no way the Celtics can pass on Jabari unless Randle/Wiggins are there. Jabari is a Celtic. A hard working dude without exceedingly great athleticism. A guy that just knows how to ball. Oh, and hey, we're in the middle of #TankSafariForJABARI.
On the Smart pick, I think its a solid one. He is a PG and we already have Rondo (is Koutroupis implying the Celtics will trade RR? Oh the speculation!) but he would still find a role here. He is big at 6-4 and at age 19 he could still learn how to play some SG to be on the court alongside Rajon. Otherwise, he'd probably be one of the best backup PGs in the league, say like Bledsoe in LA.
People who know their stuff say Smart could have gone #2 to Orlando had he come out this year. Smart knew he was giving up some money to get back to college and improve his game. So yeah, he has the talent.
I'm not saying much more cause I'm not nearly informed enough to debate a lot on the subject. Then I'll just start saying random, sense-less stuff.
With their pick from Brooklyn (which fell at 23) the Celtics got Dario Saric, which would be a great pick at that point. He's one of the more skilled guys of the draft and a frontcourt of Olynyk, Sullinger, and Saric would be one of the best regarding basketball abilities.
Hey, we'll be talking a whole lot about next year's draft class. Get ready, and get informed!