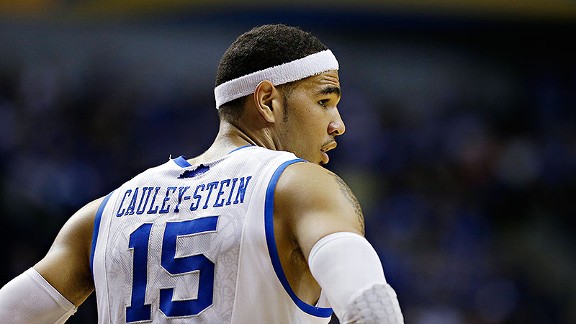 As the Celtics appear to keep getting better as a team and many of their players are talking about the playoffs, here we are still looking at the future.
I love Sullinger, and I kinda like his "Kick our butts about tanking" but the fact that next year's draft is incredibly promising can't be just left aside.
Therefore here we take a look at a couple mock drafts from different sources.
First, one from @HPbasketball:
The Celtics pick Dante Exum at No. 8 with their own pick and then Willie Cauley-Stein at No. 11 with Atlanta's pick. Let me just say this would be extremely good to me right now. Yes, we'd be missing out on Wiggins, Randle, and Parker, but Exum is a player that has been mentioned in that group (he's right behind those 3 in DraftExpress' current mock) and Cauley-Stein is a guy that could anchor your defense for ages.
Here's what Matt Moore had to say about the picks:
Exum: You know … just in case Rondo's not around. Just in case.
Cauley-Stein: Kelly Olynyk slides to the four and Stein provides the defensive backbone for the Celtics going forward.
Couple things here. One, Rondo will be around. Exum could play alongside Rondo at 6'6", much like we picked KO and we still had Sully, so that would work well. Two, more like Sullinger would move to the 4, Kelly would move to the bench. And actually here goes a 3rd thing, how awesome is Willie Cauley-Stein's name?!
More from this mock draft:
Jabari Parker is the first pick, going to Milwaukee
The Nets pick (would go to ATL) lands at No. 4. Number 4 overall!!
Cleveland gets the supposed next LeBron…
Philly is real low at No. 7
Now we're moving on to another mock draft, this time from HoopsWorld:
The Celtics get Joel Embiid with their pick (which lands at No. 8) and Kentucky's PG Andrew Harrison at 18 with the Hawks pick.
Embiid, would be another great defender. Though he, unfortunately like Fab Melo, hasn't played much basketball in his life, he seems to have a much better chance at future success. His strength is defense too. I know nearly nothing about Harrison so lets just leave it as he could emerge to finally become a consistent backup for Rondo.
More notes from this mock:
Wiggins is the first pick going to Utah. Parker is second to MIL.
This time the NYK pick falls at No. 3 and the Nets pick at No. 5. Thats is freaking unbelievable. Neither of them get their picks. Denver and Atlanta do, respectively.
Willie Cauley-Stein falls all the way to 21 in this mock.
Let's talk for a second about that Nets pick. We first expected it to be in the mid 20's and now it is a lottery pick or in the teens. Can we possibly be that lucky? Would the Basketball Gods be that good to the Celtics and Danny Ainge? Stuff to ponder, and stuff that would inmensely alter this franchise's future.
With the Celtics in a bridge year, they are better fit to fall in the lottery than in the playoffs. Still, these mocks show that the 2014 draft is pretty deep and even if the Celtics find their way into the East's best 8 they could land a quality player.
Remember, Ainge doesn't see franchise guys in this draft. Role players like Cauley-Stein and Embiid could be just what he's looking for.
Also, a defensive big paired with Sullinger, and Olynyk scoring off the bench could be absolutely fantastic in the future.