There are wins. There are solid wins. Then there are blowouts. Then there are heavy routs. And then there is what happened tonight. The Celtics visited the Knicks in a matinee game and completely destroyed New York in a laugher. There's no point to even go through what happened in each quarter because it was dominance throughout. I'll go straight to the bullet points + a bonus after the jump.
In another stellar start, the Celtics got out to a 25-3 lead. Yes, you read this correctly.
The Celtics went to Bass in the post against Anthony a lot to begin the game. It worked well, but what didn't?
The 2nd quarter looked like it could be dangerous with the Knicks slowly creeping back in the game. The C's were sputtering a little and NY had some momentum but Stoudemire ultimately gave it away with back-to-back bricks at the free throw line. The Celtics regrouped after that and never looked back. By that, I mean that they doubled up the Knicks score at 58-29 at one point.
At the half, the Knicks were shooting 26% on their field goals. Boston also dominated the rebound (27-14) and assist (16-5) categories.
The 3rd quarter arrived with Jordan Crawford doing Jordan Crawford things. Last season that would be bad, but this season that means becoming Ray Allen from behind the arc. Steez finished with six threes in the game and took a heat-check trey a good three steps from the line and everyone was totally okay with it.
Sullinger abused Bargnani all game long. Serves Bargs right for barking at KG a few games ago when the Knicks beat the Nets.
The Celtics were up by 40 points with 4 minutes left and up by 45 with 3 minutes left in the game.
This game was such an utter blowout that the C's became bored with it. Wallace made a steal and was immediately clear path-fouled and had zero emotion on his face representing what had happened. Even MarShon Brooks, who never gets to play, chose to take a 24-second violation in the last possession of the game for the Celtics just to get out of there faster.
Here's a few stats lines –
Jared Sullinger: 21 points, 9/13 FG
Jordan Crawford: 23 points, 7 assists, 6/12 3FG
Jeff Green: 16 points, 6/9 FG, 6 rebounds
Brandon Bass: 16 points, 8 rebounds, 3 steals, 8/9 FTCarmelo Anthony: a +/- of -40 in 32 minutes.
BONUS: This game was so awesome you deserve to see a few pictures from it.
Rondo laughing it up with Crawford and Bogans (presumably about how Melo wanted to recruit Rondo to New York):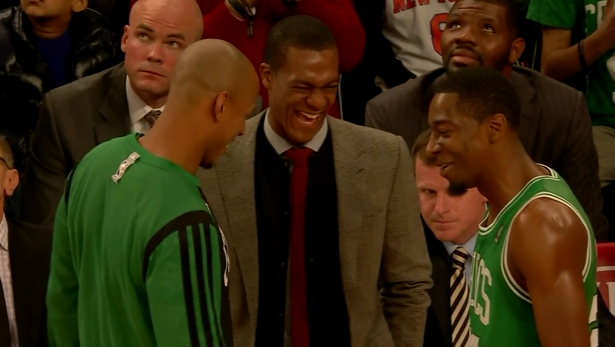 woodystruggleface.jpg: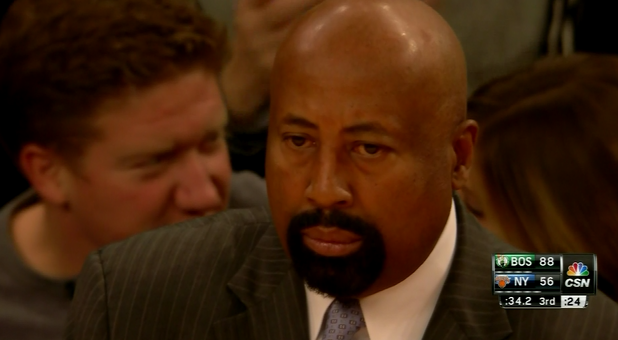 Sullinger, very smug after drilling a three: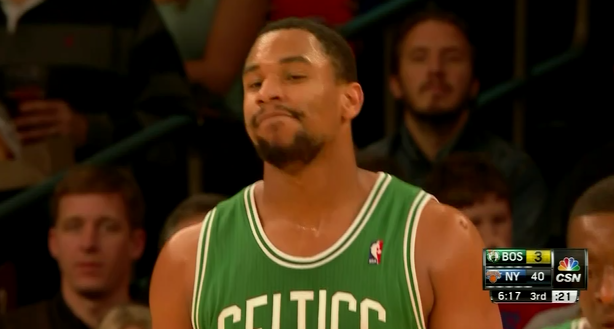 And finally, Jordan Crawford very pleased with himself: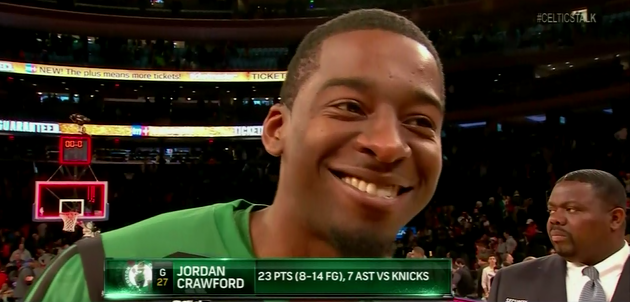 All images courtesy of @MrTrpleDouble10.
There you have it, folks. This one was a fun one to watch. The Celtics go back to work on Tuesday when they visit the Brooklyn Nets. That should be an interesting game to watching, given the inverted Atlantic Division standings and KG's first time seeing his beloved Green team again.